Hidden Humour
Sad Faces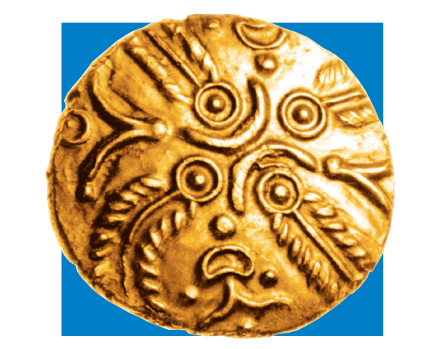 Robert Van Arsdell writes: "A hidden face on an Ancient British stater has eluded numismatists for 200 years. Tasciovanos hid the face on his staters and it took me only seven years of owning one of them to see it. Celtic artists liked to hide faces in their artwork. They had a fine appreciation for the surreal. They loved now-you-see-it-now-you- don't images. The art tied in with their religion. Things are not what they seem. Behind everyday scenes lurk unseen forces manipulating the action." Tasciovanos Hidden Faces gold stater, c.25BC-AD10, ABC 2553, found at Rushden, Northants, July 1995,
Chris Rudd List
29, 1997, No.74,
£2000
.
Glad Faces
A distinctive feature of Ancient British coins – gold, silver and bronze – is the number of grinning faces seen on them. I think we Brits have always had a good sense of humour.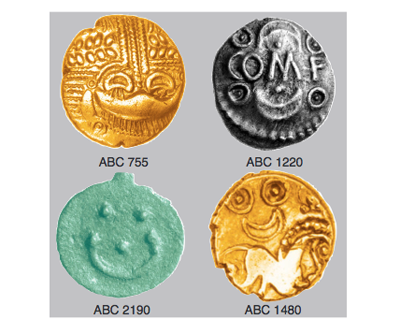 Cheriton Smiler gold stater of the Hampshire Belgae (ABC 755); Verica Smiley silver unit of the Regini and Atrebates, (ABC 1220) – note that it still keeps smiling when turned the other way up; Hengistbury Smiler cast bronze unit of the Durotriges (ABC 2190) – the smile also doubles as a neck-ring with knobbed terminals; and Irstead Smiler gold quarter stater of the Iceni (ABC 1480) – the two eyes are only revealed on off-struck examples like this. These four coins demonstrate that smiley faces aren't confined to just one tribe. I think this shows a distinctly British quirk of character. What do you think? I'm always eager to hear other views. I look forward to hearing yours.
liz@celticoins.com