Celtic hoard for sale?
Since 1991 Chris Rudd has probably handled more major Ancient British coin hoards, as a buyer or as a professional valuer, than any other leading British dealer. We can make you a cash offer for your hoard or we can sell it by auction for you. For expert advice consult liz@celticcoins.com Here are just a few coins from a handful of the many famous Celtic hoards featured in Chris Rudd's catalogues.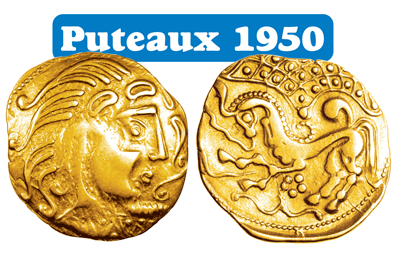 Paris Net gold stater of the Parisii, LT 777, J-B Colbert de Beaulieu,
Les monnaies gauloises des Parisii
(1970), fig. 16.19 (
this coin
),
ex Puteaux hoard, Paris, November 1950.
Chris Rudd List
78,
November 2004, No.7.
£6,500
For further information 'The Puteaux Hoard' by Dr John Sills, Chris Rudd List 78, November 2004, p.2-4, author of Gaulish and early British gold coinage (2003), "the most important work on Celtic coinage for 30 years," available from Chris Rudd. See Books about Celtic.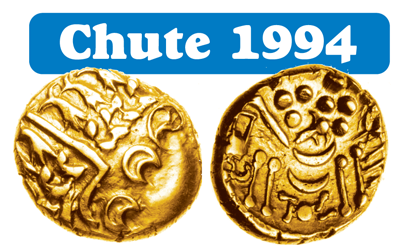 Chute gold stater, ABC 746, ex Chute hoard, Wiltshire, 1994.
Chris Rudd List
27, June 1997, No.82.
£300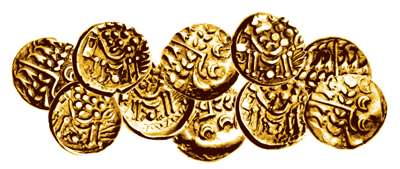 Some of 96 superb Chute gold staters found by a metdet at Chute
on 6 August 1994. Chris Rudd and a colleague bought this entire
glittering Treasure hoard for cash in 1995, after it had been
disclaimed by the British Museum. Some of these gold staters
had been concealed inside a hollow flintstone, a sort of iron age money-box.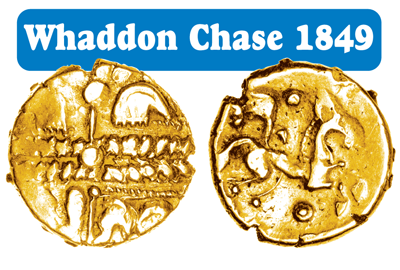 Early Whaddon Chase, Rounded Wing Type, gold stater,
ABC 2433, ex William Robinson collection (1915-26),
very likely from Whaddon Chase hoard, Bucks., 1849.
Chris Rudd List
81, May 2005, No.52.
£550
Cassivellaunos, leader of the British coalition against Caesar in 54 BC, may have ordered the minting of early Whaddon Chase gold staters (ABC 2433-39), plus other gold staters from other tribes, to be paid as tribute to Rome from 53 to 51 BC, says Dr John Sills in his important paper 'The earliest British coins: dating the undated', Chris Rudd List 27, 1997, p.2-5.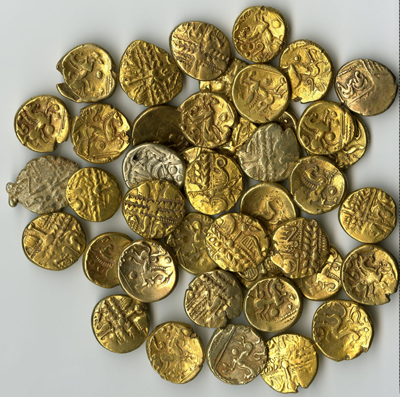 PHOTO: ROS TYRELL, COURTESY OF THE PAS.
The first 42 Early Whaddon Chase gold staters from
the Buckingham hoard found 16-17 December 2006.
For Chris Rudd's report on this hoard and the 1849
Whaddon Chase hoard see
The Buckingham Gold Hoard
.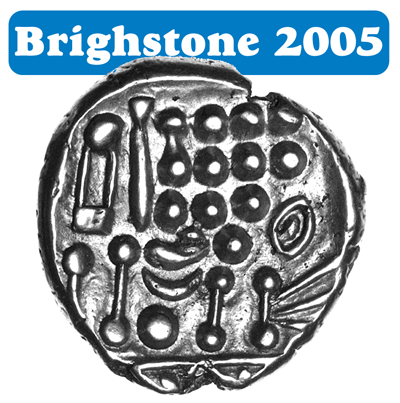 Spread Tail silver stater, ABC 2160, ex Brighstone hoard,
Isle of Wight, 2005.
Chris Rudd List
98, March 2008, No.38.
£250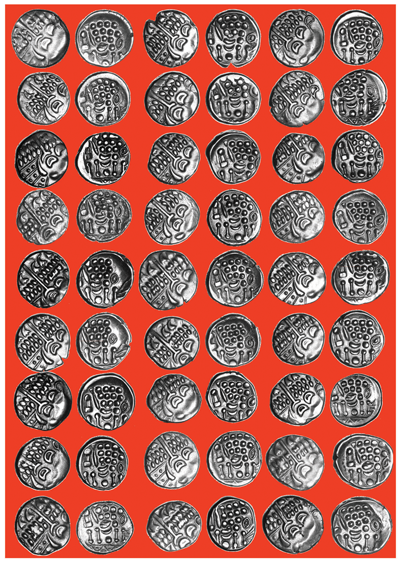 Some of the 100s of superb Cranborne Chase and Spread Tail
silver staters that Chris Rudd bought for cash from the massive
Brighstone Treasure hoard. We were lucky. We knew the prime
finder, got in early and acquired the lion's share for our customers
who showed their appreciation by quickly buying all we'd bought
for them. Win-win all round – for finder, for dealer, for collectors.
If you'd like a winning offer for
your
hoard, get lucky with
liz@celticcoins.com
For Chris Rudd's report on the Brighstone hoard and an earlier Isle of Wight hoard, see 'Huge Iron Age hoard found on Isle of Wight.'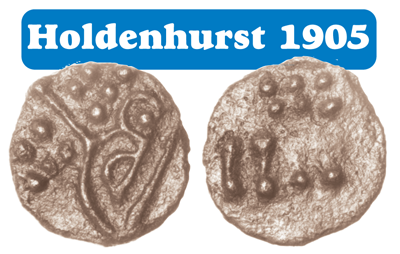 Hengistbury Two Legs cast bronze unit, ABC 2178. By simplifying the
design (compare this with the Cranborne Chase and Spread Tail staters
from the Brighstone hoard) the Durotrigan moneyers at Hengistbury Head,
Dorset, could impress disposable clay strip-moulds more rapidly, with just
a swift stroke of their stylus. Ex Cotswold collection, ex Philip D.Greenall,
ex Richard P.Mack. From the "South Hants hoard" found at Holdenhurst,
east Dorset, January 1905, "by a Mr Kilmester when ferreting."
Chris Rudd
List
54, November 2000, No.65, which sold for
£1,200
– an unusually high
price due to the rarity of this type (only ten others recorded) and the high
grade and illustrious pedigree of this specimen, published in
Sylloge of
Coins of the British Isles
20, R.P.Mack, 1970, no.197. In 1993-94 we
bought many Hengistbury bronze units from the 1905 Holdenhurst hoard,
all ex R.P.Mack, author of
The Coinage of Ancient Britain
(1953, 1964, 1975).
Four Hod Hill struck bronze staters, ABC 2175, excavated by Chris Rudd at Badbury Rings, Dorset, 1952-53, and later acquired by Dick Mack, see R.P.Mack Sylloge (1973), pl.VII, nos. 191-195. Drawings by Chris Rudd from his excavation notes, 1953, in Dorset County Museum.
Richard Mack's celebrated collection of Ancient British coins included six found by young amateur archaeologist Chris Rudd in the early 1950s, a few of which were later bought by Robert D.Van Arsdell, author of Celtic Coinage of Britain (Spink 1989), for example his 'Struck Bronze Type' VA 1290-1, p.302 and pl.34. On 3 August 1991 Chris drove Bob from near Danebury hillfort (where he was digging with Professor Barry Cunliffe) to Badbury Rings, Dorset, to show him where his coins had been excavated almost 40 years earlier. We're still keen to help scholars whenever we can. For fast aid email liz@celticcoins.com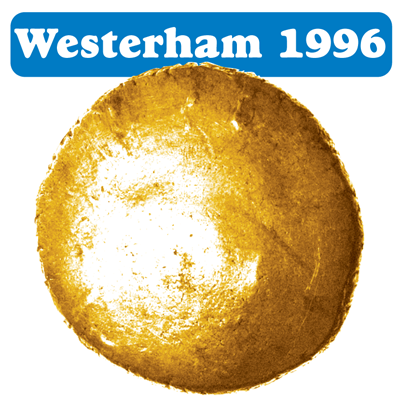 Golden sun, symbol of sky power.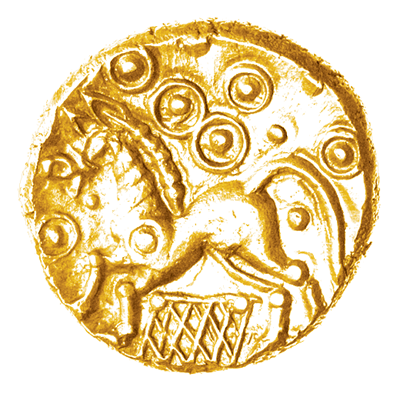 Golden sun-horse, symbol of regal land power.
Late Weald Net gold stater, ABC 180, ex Westerham hoard,
Kent, 1996-97.
Chris Rudd List
120, November 2011, No.9.
£7,200
There's something fishy about it
Fishing net on Parisian gold stater, LT 7777, struck c.60-52 BC.
The wealth of the Parisii came from their control of the river Seine
and its confluence with the Marne, Oise, Bière and Ourcq, all rich
in fish 2000 years ago. See our gold stater from the Puteaux hoard 1950.
Sun on one side, sign of kingship on the other. But what's that box? In 1996 I said it might be a Cantian fishing net, perhaps derived from le filet triangulaire quadrille of Parisian gold staters (LT 7777-88). In the absence of other suggestions (or contradictions) I still like my net idea. Athenaeus, the Greek gourmet, says: "Those [Celts] who live beside the rivers or near the Mediterranean or Atlantic eat fish in addition, baked fish, that is, with the addition of salt, vinegar and cumin" (The Learned Banquet 4.36). What about the Brits in Kent? Surrounded by sea on three sides and living beside the well-stocked Darent, Medway and Stour, not to mention the Thames estuary and Wantsum channel, I'd be amazed if the Cantiaci weren't fishermen and fish-eaters. So what does the net signify? Later Kentish coins display sea-serpents (ABC 213, 237, 243, 303, 312, 357), a capricorn (ABC 435), hippocamps (ABC 462, 465, 471), Neptune (ABC 474), a dolphin (ABC 477) and a war-galley (ABC 2939) – all images associated with the sea. So my guess is that the fishing net symbolises sea-power. The only other British coins that feature a possible net were the sea-girt Iceni (ABC 1474-80). I think they nicked it from Kent.
Westerham Treasure hoard 2003-06
These 17 Corded Triangle gold quarter staters, ABC 198 and variants, all came from the Westerham Treasure hoard, Kent, 2003-06, disclaimed by the British Museum (no, we don't deal in dodgy material – only hoards which have been declared and properly recorded with the PAS).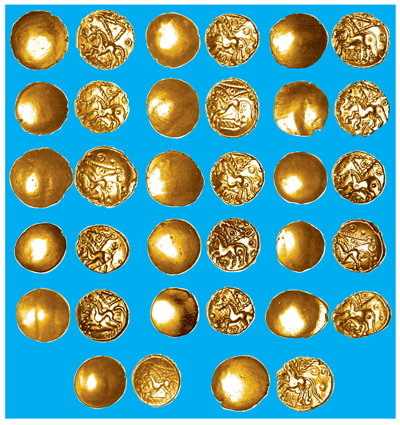 Above the horse is a triangular symbol which seems to have
an equine ear protruding from each of its top two corners.
Like the Late Weald stater above, each of these quarter
staters has a latticed box or rectangle under the horse.
If you're thinking of consigning your hoard to a general numismatic auction house that sells all kinds of coins – maybe medals and banknotes too – consider this: We bought these 17 gold coins at a well known, well publicised London auction and then sold them to Chris Rudd's clients at a reasonable profit. What does that tell you about general coin sales? For specialist advice on how to sell your hoard (or collection) consult liz@celticcoins.com