Chris Rudd's pedigree pieces
At Chris Rudd we're happy to buy all kinds of Celtic coins – bronze, silver or gold: common or rare; VF or EF; orphan or pedigree. Here are a few of the many pedigree pieces we've had. We'd like to buy yours when you're ready to sell. Or auction them for you, if you prefer. For expert advice ask liz@celticcoins.com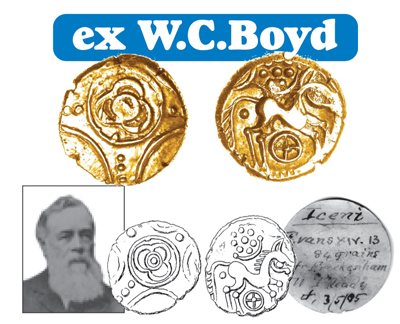 W.C.Boyd, Evans XIV.13 and Boyd's ticket
Freckenham Flower, Daisy Wheel Type, gold stater, ABC 1426, ex William Christopher Boyd (1840-1906), treasurer of the Royal Numismatic Society, who bought it from the London dealer, William Talbot Ready, 3 May 1905, ex Freckenham hoard, Suffolk, 1885.
Chris Rudd List
126, November 2012, No.27.
£2,400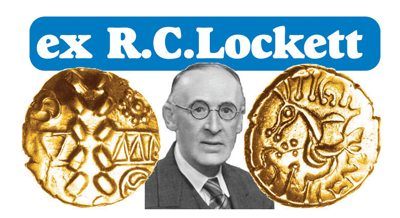 Dumnocoveros Tigirseno gold stater, ABC 1971, ex Richard Cyril Lockett (1873-1950), ex Alexander Mann, ex Thomas Bliss, ex H.Montagu, ex Hemingway (1882), probably ex Lightcliffe hoard, Yorkshire, c.1829. Published in Derek Allen,
The Coins of the Coritani
(SCBI 1963), pl.VIII, no.399.
Chris Rudd List
131, September 2013, No.35.
£3,500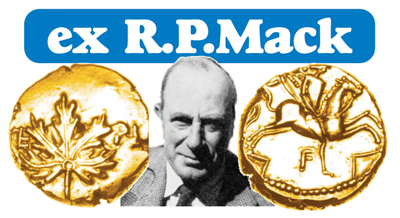 Verica Vine Leaf gold stater, ABC 1193, ex Commander Richard Paston Mack (1901-74), author of
The Coinage of Ancient Britain
(1953, 1964, 1975), ex Abbott, ex Thomas Bliss, ex J.W.Shaw, ex Alresford hoard, Hampshire, c.1880. Published in
Sylloge of Coins of the British Isles
20 (1973), no.112, and by Derek Allen and Colin Haselgrove, 'The Gold Coinage of Verica',
Britannia
10 (1979), no.38.
Chris Rudd List
63, May 2002, No.28.
£2,000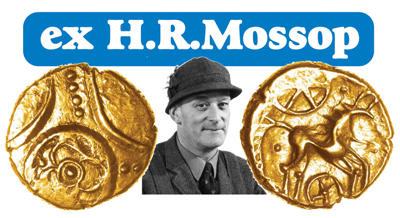 Freckenham Flower, Two Wheels Type, gold stater, ABC 1432, ex Henry Richard Mossop DFC (1919-88), author of
The Lincoln Mint
, from what Sir John Evans calls "a very important hoard" found in 1885 at Forest Heath, Freckenham, Suffolk. Evans says: "The discovery was made by a labourer working in his own garden, who in digging came across a small urn" containing about 90 gold staters.
Chris Rudd List
110, March 2010, No.21.
£1,200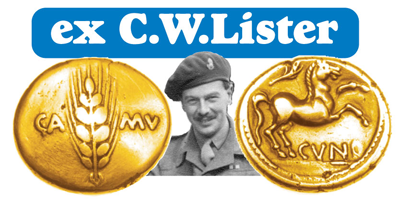 Cunobelinus Classic, Stalk Type, gold stater, ABC 2798, ex Major Clement Wynter Lister (1920-2010), ex G.C.Drabble, ex Major P.W.P.Carlyon-Britton. Published by Derek Allen, 'Cunobelin's Gold',
Britannia
6, 1975, pl.V, 128.
Chris Rudd List
49, January 2000, No.47.
£1,000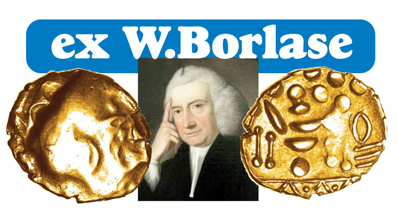 © THE ROYAL INSTITUTION OF CORNWALL
Westerham North gold stater, ABC 2430, ex Carn Brea hoard, 1749, recorded and illustrated by Rev.William Borlase (1695-1772) in The Antiquities of Cornwall, 1759 ed. Borlase, an early Celticist, believed that Cornwall, with its supposedly uncorrupted Celtic language and megalithic monuments, was well suited for providing evidence complementary to written history in investigating Britain's inhabitants.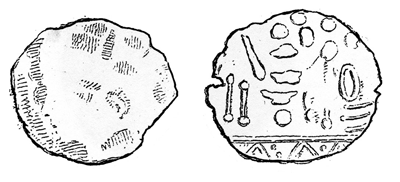 Drawing from Borlase, 1759, pl.23, no.IX.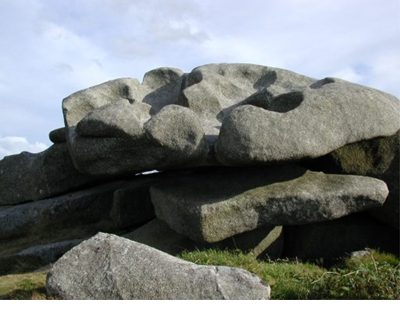 Carn Brea, near Redruth, Cornwall, where a hoard of more than 17 iron age gold coins was found in 1749. The rough stone wall of
Carn Brea's Neolithic enclosure took an estimated 30,000 hours to build.
Five of the Carn Brea coins went to the Ashmolean Museum, Oxford. Other disappeared from public view, including the Westerham North gold stater shown above. Two centuries later, probably in the early 1970s, it turned up in the collection of war hero Henry Mossop, 'The Flying Farmer' and pioneer metdet, who was shot down over the Rhine on 21 June 1944, imprisoned for a year in Stalag Luft III and awarded the Distinguished Flying Cross for his bravery. This gold stater is now in the Royal Cornwall Museum.
Chris Rudd List
113, September 2010, No.38.
£1,500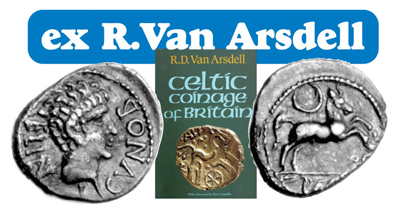 Cunobelinus Crescent Horse silver unit, ABC 2873, ex Robert D.Van Arsdell, author of
Celtic Coinage of Britain
(Spink 1989),
The forgery of the "Haslemere hoard"
(BNTA 1986),
The Coinage of the Dobunni
(OUCA 1994) and 57 important articles about Ancient British coins.
Chris Rudd List
17, July 1995, No.27.
£350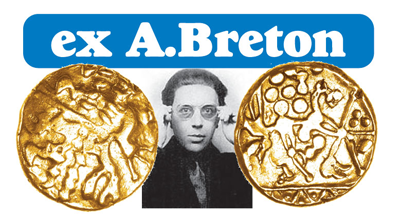 Yarmouth gold stater, ABC 518 (this coin), ex André Breton (1896-1966), French poet, essayist, art collector, pioneer of surrealism and friend of Pablo Picasso and Salvador Dali.

In his extraordinary book
Le secret des Celtes
(1969) Lancelot Lengyel illustrates this coin (p.148) and suggests that the windmill motif represents a dead bird with its head upside down. At Chris Rudd we're always delighted when a dearly beloved old friend returns to us, as André Breton's Yarmouth gold stater did.
Chris Rudd List
75, May 2004, No.28.
£2,000
and
Chris Rudd List
124, May 2012, No.17,
£3,400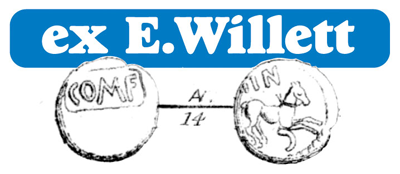 Tincomarus Tinc Horse gold quarter stater, ABC 1085,
Numismatic Chronicle
17 (1897) pl.X, fig.3 (
this coin
), ex Rev.Norman Hart, ex Henry Mossop, from scattered hoard found on beach at Selsey, West Sussex, c.1873, and published by Ernest Willett FSA of Willett's Nipple fame (see ABC 536) in 'The Ancient British coins of Sussex',
Sussex Archaeological Collections
30 (1880), pl.IV, fig.14 (as above).
Chris Rudd List
75, May 2004, No.19.
£500
Tincomarus Warrior Com F gold stater, ABC 1067, ex Matthew Rich, author of
Boar Horse
(Chris Rudd 2014), a comprehensive catalogue of uninscribed silver coins minted in Lincolnshire c.60 BC-AD 10 by the Corieltavi.
Chris Rudd List
72, November 2003, No.25.
£1,500