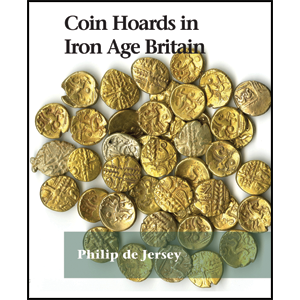 Coin Hoards in Iron Age Britain
It took 8 years to compile. It's as thick as a brick. It weighs nearly four pounds (c.300 gold staters). And it runs to almost 500 fact-packed figure-filled pages. By any standards Coin Hoards in Iron Age Britain is a colossal, decade-defying reference book of monumental yet meticulous scholarship. It could only have been written by the indefatigable, infinitely well informed archaeologist-cum-numismatist Dr Philip de Jersey. And thank God it was! Philip and only Philip could have catalogued 346 hoards from 307 places with such integrity – he returned to primary sources, often correcting antique errors – and in such an interesting, very readable style. He also provides a fascinating analysis of the main features of hoarding in the late Iron Age and Romano-British period. He discusses discovery, containers, chronology, distribution, microtopography and associated finds such as blanks, ingots, jewellery. This is the first comprehensive account of Ancient British coin hoards – the first you can trust, the first that you'll keep consulting because it's a delight to use. Indeed, it's a numismatic treasure that will keep giving pleasure. "Worth every penny", says Dr John Sills. The book is large, very large, and the print run is small.
Most books are in stock but  to the huge variations in postage charges please contact us and we will be happy to provide a quotation for your book order. Please complete all fields.
Out of stock